How can I update my credit card details?
It's useful to be able to update your credit card details, and you'll always need to do so in these circumstances:
You get a new credit card (for example, the old one was lost or stolen)
Credit card expired, same card number but new CVV and / or expiry date
Re-adding your credit card details will cause us to try to charge you again.

Credit card over-limit for several days in a row when we're due to charge you (we try for three days in a row, then "freeze" your account)
Your bank denies our charge several times in a row, you let them know it's ok
It's easy to re-add or update your credit card details in GMBill.com.
Visit the Account Lookup page, log in
Head over to our Account Lookup page (that link opens in a new tab).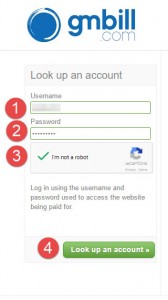 Log in with the same (1) username and (2) password you use for the site you bought access to. Check the box (3) to declare you're not a robot. You may be asked to prove you're not a robot, with a simple challenge like this:
Select account
If you have multiple accounts with GMBill.com, you'll be able to select the relevant account.
Update credit card details
Switch to the Billing panel on the left, and click the "Edit" button.
Enter the new credit card details (if you have the same credit card details, and you're doing this to re-enable billing after failure, or to verify you own the account, using the same credit card details is fine).
Click "Submit".
What happens next?
Our system will record the new information.
Updating details for a PPS security check
If you're updating details for a PPS security check, switch back to the site you're buying scenes on, and repeat the top-up process. You'll be asked a security question again – you have two attempts, and if you fail, you'll have to come back to GMB and update your card again!
Updating CC details so a rebill can occur
If a rebill is currently due on this account, as soon as you submit the new CC details, we'll try to bill your card again immediately. If it's successful, you see the new charge on the Transactions panel. Your access is restored to the site – enjoy!
If the rebill fails again, you'll need to contact us so we can look into it further (but you could also try a different card), or contact your bank and ask them why they are not letting us charge your card.
Updating CC details for a future rebill
If you're not currently due for a rebill, when the rebill due date does comes around, we'll simply use the new card details for subsequent charges.